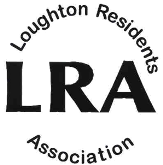 The Loughton Residents Association (LRA) is an independent group of people who want to make Loughton an even better place to live and work. LRA represents a wide range of ideas and concerns. We seek out the views of people in the community and ensure that their voices are heard. LRA makes great efforts to provide a public arena for the residents who care about Loughton.





More about LRA

, including how to

Contact us

and

our News Emails.
Broadway Area Parking Review Phase 2

LRA Cllrs have not yet been able to find out from NEPP when they will produce a report on their public consultation (they failed to involve LRA Cllrs in its preparation of the consultation, and in the event the consultation was a shambles). More



Epping Forest College to sell off land





We understand the College are selling off for housing two sites the site of the former College buildings (west of the current College building) and Lucton's field (opposite the College).

More




Local Plan

Epping Forest District Council has now submitted its Local Plan for Examination. The Inspector has produced a timetable and document, including a set of questions. for hearings in 2019.




LRA, SaveJesselGreen and others will be attending some of the hearings to oppose various aspects of the Plan, including the idea of building on Jessel Green. More



All night street-lights





The District Council have negotiated with the County Council to allow individual town or parish councils to opt to have street-lights on all night – but paid for by local Council taxpayers.

More




Here are the answers!



Well done to all of you who entered the quiz, and to the very many of you who

did the quiz with friends and family over the holiday, but never got round to

sending it in. We kept meeting people who delighted in telling us where they'd

got stuck, or had a sudden brainwave!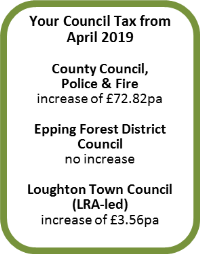 More from LRA

Watch out

for

Loughton Life

, delivered to all Loughton households twice a year.
Support

the LRA for just £5 a year to get regular email newsletters, plus get more frequent Loughton Life issues delivered to your door.
Visit us on Facebook

Visit us

on Twittter




See LRA's Privacy Policy
Promoted by Independent Loughton Residents Association, 20 Eleven Acre Rise, Loughton, Essex IG10 1AN.