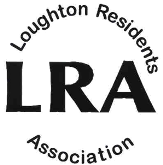 The Loughton Residents Association (LRA) is an independent group of people who want to make Loughton an even better place to live and work. LRA represents a wide range of ideas and concerns. We seek out the views of people in the community and ensure that their voices are heard. LRA makes great efforts to provide a public arena for the residents who care about Loughton.



More about LRA

, including how to

Contact us

and

our News Emails.


Broadway Area Parking Review

LRA has been pressing for these proposals for ten years –they have only got this far because LRA Cllr Chris Pond has fought so doggedly for them! More



Public Meeting & LRA's AGM

All welcome




There's a lot going on locally! We'll answer your questions and give a briefing on the draft Local Plan




(we hope to have new information to hand).





Then we'll have refreshments and LRA's AGM.





Doors open 7.45 for 8pm start at


Loughton Club, 5 Station Road, Loughton IG10 4NX Map


Forest Road Area Parking Review

LRA has been working for years for a solution to the parking problems experienced by residents in Smarts Lane, Forest Road and neighbouring roads. LRA County Cllr Chris Pond, together with County Cllr Valerie Metcalfe, have finally persuaded the North Essex Parking Partnership to put forward proposals for residents' parking. They strongly suggested that an initial suggestion by NEPP of parking on one side of the road only was unlikely to meet residents' needs, or their approval, and this was dropped. Mor

e



Kings Green Area Parking Review

One of the residents of this row of cottages asked LRA Cllr Chris Pond whether anything could be done about their parking problems. Unusually, this is a small area and residents were prepared to make a unanimous request to NEPP (things are rarely this simple!) More
More from LRA

Watch out

for

Loughton Life

, delivered to all Loughton households twice a year.
Support

the LRA for just £5 a year to get regular email newsletters, plus get more frequent Loughton Life issues delivered to your door.
Visit us on Facebook

Visit us

on Twittter



Promoted by Independent Loughton Residents Association, 20 Eleven Acre Rise, Loughton, Essex IG10 1AN.