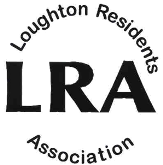 The Loughton Residents Association (LRA) is an independent group of people who want to make Loughton an even better place to live and work. LRA represents a wide range of ideas and concerns. We seek out the views of people in the community and ensure that their voices are heard. LRA makes great efforts to provide a public arena for the residents who care about Loughton.





More about LRA

, including how to

Contact us

and

our News Emails.
Broadway Area Parking Review Phase 2





A year ago, with few objections from residents, NEPP introduced residents' parking controls in the roads nearest to Debden station/town centre. because residents were unable to find anywhere to park at the kerbside near their homes. Other parking was displaced into the surrounding roads.

The present draft Parking Order covers roads:

- where there is already a commuter-parking problem, where many residents want parking controls so they can park near their homes.

- nearby roads which don't currently have a commuter-parking problem but which may suffer serious displacement – if so, NEPP could introduce parking controls here much faster than by starting afresh).

NEPP totally failed to explain this when they advertised the Order for objections - understandably, some residents were very upset by this.

LRA Cllrs will support residents in the outer streets who don't want their roads included in the scheme - and residents who are already suffering serious commuter-parking. More

NEPP proposals here

(click on Epping Forest District Amendment 24).
LRA's letter to residents

Local Plan

The High Court has dismissed a developer's legal challenge to the Epping Forest District Council's Local Plan, paving the way for the Council to submit the Plan to the Secretary of State for Independent Examination (the challenge could, if successful, have had a significant effect on the progress of the Plan).



See the Council's statement here

–

we will be considering the implications of the judgement.



More



More from LRA

Watch out

for

Loughton Life

, delivered to all Loughton households twice a year.
Support

the LRA for just £5 a year to get regular email newsletters, plus get more frequent Loughton Life issues delivered to your door.
Visit us on Facebook

Visit us

on Twittter




See LRA's Privacy Policy
Promoted by Independent Loughton Residents Association, 20 Eleven Acre Rise, Loughton, Essex IG10 1AN.